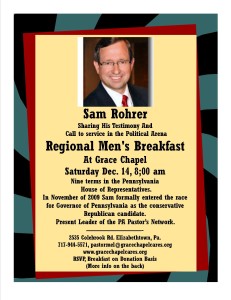 Join Sam Rohrer as he shares his testimony and call to service in the Political Arena at the Regional Men's Breakfast
Date: Saturday, December 14, 8:00 a.m.
Location: Grace Chapel, 2535 Colebrook Rd. Elizabethtown, Pa.
Nine terms in the Pennsylvania House of Representatives.
In November of 2009 Sam formally entered the race for Governor of Pennsylvania as the conservative Republican candidate. Present leader of PA Pastors' Network.
For more information call 717-944-5571, pastormel@gracechapelcares.org, www.gracechapelcares.org